Cancer's a hot topic online. In 2006, 'cancer' was the third-most most searched-for term on Google News (behind 'Orlano Bloom' and 'Paris Hilton'). A Google search today for 'cancer' yields roughly 416 million hits.
Finding reliable cancer information amongst the online morass is extremely important. Good quality, reliable information can reassure, explain and, for some, help make decisions about which treatment to have. As a result, we've always invested a good deal of time and effort in keeping our websites up to date – especially our flagship patient information site, CancerHelp UK.
But as the internet evolves – especially the so-called 'social web' – we need to work out where we can be of most benefit. Should our involvement in the online world begin and end with our own website? Should we also spend time engaging with other online communities? And how much relative effort should we spend on these different tasks?
Those of you who follow our Twitter feed, are 'friends' with us on Facebook, or who regularly read this blog will know that we've already rolled up our sleeves and joined in with this new online world, with big benefits. But until now we hadn't worked out the best way to work with one the largest of the 'social' websites – Wikipedia. Yet we've always been aware that, as far as cancer information is concerned, Wikipedia is a key player.
So, as you may have seen from various news stories this week, we've been talking to the folk that run Wikipedia – the Wikimedia Foundation – to see whether we can work together to improve the huge volume of cancer-related information on the site.
Wikimedia academy
Our interest in talking to Wikipedia was first piqued a while back, when we learned about an initiative between the US branch of Wikimedia and the National Institutes of Health. They'd teamed up to hold a 'Wiki Academy', training their scientists to get stuck in and edit science-related pages on the site.
So we contacted Wikimedia's UK branch and arranged for them to come and talk to a group of key staff. As it transpired, this was the first Wiki Academy the UK branch had ever held – a learning curve for both of us.
At the two-hour seminar in late January, a bunch of dedicated volunteer Wikipedians, led by Mike Peel, gave us a glimpse of what was under Wikipedia's bonnet and taught us about the social etiquette (or 'Wikiquette', as it's called) of making edits to the site's content. What they told us also reinforced the importance of the exercise – a quick survey Mike carried out revealed that, in the month of January alone, 1,500 cancer-related pages were viewed an astonishing 3.5 million times.
Our appetites' whetted, Mike and co returned to our offices last week to hold a full day's training for a small number of staff.. There, we learnt how to create and edit pages, engage with other users, propose changes to pages and get fully immersed in the site's inner workings.
Amongst the pages we created were this one on cervical screening – which, astoundingly, didn't exist already – and this one on a key scientific paper. We also edited several other pages to clarify or improve the information. So far our edits seem to have accepted by the wider Wikipedia community. So far, so good – and to answer a question we've been asked all week, no we don't have special access privileges. On Wikipedia, all edits are equal.
What next?
This is the big question. Now we've got our heads round the size of the task, we need to properly assess how we tackle it. As you can imagine, we're always busy just keeping abreast of new developments in cancer research, and updating our own sites accordingly. So we're keenly aware of the size of this job – editing the cancer related content on Wikipedia will probably feel a little like painting the Forth Bridge.
But we're also aware that someone's got to do it, so we might have some long nights ahead (although as the web comic XKCD put it so eloquently, there are pitfalls in spending too much time online…)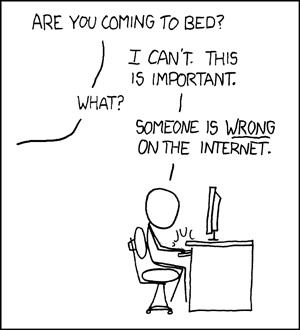 Nevertheless, we've got a few ideas and we're going to start rolling them out over the coming months. The cancer information on Wikipedia certainly won't become 100 per cent accurate overnight, but we've made our first steps on a longer journey and we're quite excited by it all.
Henry
Comments