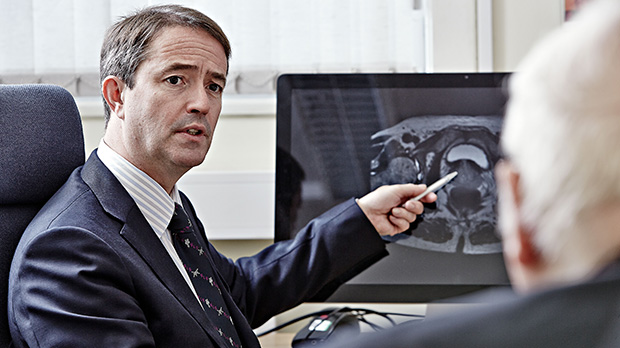 Our work to encourage earlier diagnosis of cancer is crucial. Prostate cancer diagnosis
Nearly one in four people with cancer in England are diagnosed after seeking help at a hospital Accident and Emergency department or through another emergency route.
This is simply unacceptable – thousands of deaths every year could be prevented if cancer were diagnosed and treated earlier.
But diagnosing cancers at an earlier stage – when treatment is more likely to be successful – is a huge challenge, and one that Cancer Research UK is striving to address. We've been working with GPs to improve cancer symptom recognition and appropriate referral to specialists.
We're working in partnership with the Royal College of GPs, the British Association of Dermatologists and Doctors.net.uk to support GPs with tools and education to diagnose cancer at the earliest opportunity.
But GPs aren't the only ones who have a role to play in early diagnosis of cancer. That's why we also work to increase the public's awareness of cancer signs and symptoms and the benefits of seeking help early.
How do we know if this actually works? In this blog post, we look at our recent awareness campaign in Warrington in Cheshire, including the rationale for the campaign, the evidence behind it and how it made a difference.
Insight and research
We started with a review of the barriers and research into people's beliefs about cancer, which produced some fascinating insights.
A recent study carried out by the International Cancer Benchmarking Partnership showed that nine in 10 people in the UK believed 'cancer can often be cured' and that 'people with cancer can expect to continue with normal activities and responsibilities'. Most also believe in the benefits of seeking help for suspicious symptoms early.
That's encouraging news. Over recent years there have been huge improvements in the diagnosis and treatment of cancer, which have led to cancer survival rates for the disease doubling over the past 40 years.
But a review of studies looking at the reasons for delay in seeking help found some more worrying findings. People aren't always able to recognise the seriousness of their symptoms, they can fear the tests and treatments associated with cancer, be embarrassed about their symptoms, or have concerns about the chances of surviving having been diagnosed. These kinds of fears and negative beliefs about cancer can be more common among more deprived social groups.
All this insight helps us to understand the issues that can prevent people from acting on potential cancer signs or symptoms, and could contribute to later-stage diagnosis.
Aims of the campaign
We wanted to develop a campaign that could help break down some of the barriers for people making doctor appointments and encourage earlier diagnosis.
We also saw an opportunity to develop a campaign that could speak to everyone – raising awareness of the importance of knowing your body and what's normal for you – rather than taking the traditional approach of focusing on a specific type of cancer and cancer symptom.
A positive approach
We were keen to reach people who might normally avoid information about cancer. To do this, we took a positive approach, rather than using shock tactics that play on people's already-embedded fears about the disease. We tested a number of creative ideas in focus groups to determine the best route to engage our target audience – over 50s from lower socio economic groups.
As a result, we decided to base the campaign around the "good news" statistic we mentioned above – "You're twice as likely to survive cancer today than 40 years ago". And we aimed to get this message out to those most at risk of developing cancer: men and women over 50 years old, from more deprived backgrounds.
When we tested our initial ideas in focus groups, we found that people responded best to genuine experiences, so we featured real-life cancer survivors in the final campaign. This initial testing also demonstrated the importance of keeping the message simple and easy to understand – early diagnosis makes survival more likely.
Here's one of the posters from the resulting campaign:
The campaign ran for four weeks in March 2012 in the most deprived areas of Warrington in the North West of England. We worked in partnership with NHS Warrington and the Merseyside and Cheshire Cancer Network. It featured stories in the local press, outdoor advertising, and personalised letters with gender-specific information on signs and symptoms as well as screening (our 'Spot Cancer Early' leaflets).
We also worked on stories with local newspapers and talked directly with the public through our Cancer Awareness Roadshow, and engaged many local health professionals with the campaign.
Tracking success
So, did it work? To measure the impact of the campaign, we carried out face-to-face interviews before and after the campaign with around 500 Warrington residents, aged 50+ and from more deprived social groups.
Without being prompted, people taking part in interviews after the campaign had run were statistically more likely to remember seeing communications about cancer via the channels used in the campaign, compared with people who completed an interview before the campaign (direct mail [16 per cent before vs 10 per cent after], local press [8 per cent before vs 3per cent after] and poster/billboards [11per cent before vs 3 per cent after]).
And after the campaign, nearly half (46 per cent) of those interviewed recognised the poster, the press advert (44 per cent) or leaflet (21 per cent) – suggesting that the campaign achieved high exposure with the target audience.
But was it effective? In other words, did the campaign raise awareness that cancer survival rates have improved and that early diagnosis is key to improving your chances of surviving the disease?
Broadly speaking, the answer is yes. In the aftermath of the campaign, 22 per cent of people interviewed recognised the key campaign message (raising awareness of the improvements in the chances of surviving cancer) compared with 15 per cent beforehand (a statistically significant difference), and were less likely to agree with statements such as 'A diagnosis of cancer is a death sentence' (11 per cent after the campaign vs 15 per cent before) and 'Going to the GP early will make no difference to my chances of survival' (7 per cent after vs 11 per cent before).
The proportion of people who said they would 'go to the GP' if they had an unusual or persistent change to their body rose from nine in 10 (90 per cent) before the campaign to nearly 10 out of 10 (98 per cent) after the campaign.
This strongly suggests the campaign's messages stood out to the target audience.
We also telephoned a sample of people who were sent one of our personalised letters. Of those interviewed, 16 per cent remembered receiving it and said they'd read it to some extent. The Department of Health have now included this approach in their Be Clear on Cancer campaigns.
But what about the end result? Did people actually act on these messages?
We looked at monthly data on whether GPs referred people urgently for suspected cancer (provided by Trent Cancer Registry)*. Comparing the number of urgent referrals made during campaign months (March and April 2012) with the same period in previous years (2011 and 2010) showed an increase in the areas where the campaign was running, suggesting that the campaign may have encouraged more people to the see their GP.
Local targeting key to success
And finally, feedback from Warrington residents visiting the Cancer Awareness Roadshow during the campaign indicated that the 'localness' of the campaign was crucial to its success, ensuring it was relevant to the target audience:
"It really brings it home because it's someone local."

"I opened it and thought, 'Oh, it's the Warrington woman."
What's next?
These results are encouraging and indicate that a local cancer awareness campaign focusing on the importance of knowing your body and what's normal for you rather than specific cancer signs or symptoms could be an effective way of encouraging people with potential symptoms of cancer to see their doctor.
But it was just a small-scale pilot. To make sure the approach works, we need to test it in more than one area. So we have worked with the Swansea Health Board to run the same campaign in Port Talbot, South Wales, presenting the same messages and featuring local cancer survivors. The campaign ran in March this year and we'll be looking at the evaluation data over the coming months.
Of course the painstaking laboratory work and clinical studies involving cancer patients are at the very heart of our work to find cures and ultimately to beat cancer. But just as thousands of our researchers around the country are working to bring forward the day when all cancers are cured, our work on raising cancer awareness and encouraging earlier diagnosis has an important role too.
Camille Gillmer, Health Campaigns Manager
Comments