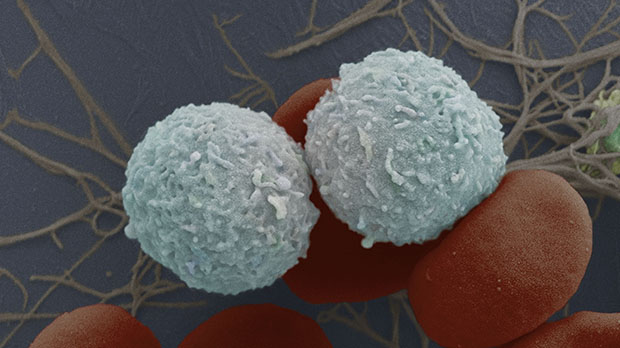 Immune cells (white). Image courtesy of LRI EM Unit. Immune cells found in the blood.
Breast cancer immunotherapy first
A woman's advanced breast cancer has apparently been eradicated by an experimental therapy made from her own immune cells, reports the Mail Online. The woman remained cancer-free two years after the "highly personalised" therapy, after existing treatments had failed. Researchers described the work as "remarkable", but as our chief clinician, Professor Charles Swanton, wrote in The Guardian, not everyone who had the experimental treatment benefitted. And there's still a lot to learn before this success story translates into a new way to treat patients.
Lung cancer immunotherapy drug approved for NHS in England
The immunotherapy drug pembrolizumab has been made available on the NHS in England for non-small-cell lung cancer. The drug was initially deemed too expensive, but a price agreement has been made between the manufacturer and NHS England. Our news report and The Times have the details.
Prostate cancer drug given initial 'no' for NHS in England
The prostate cancer drug abiraterone has been provisionally rejected as a first-line treatment on the NHS in England. Our news report and The Sun have the story.
NHS appointments for preventative breast surgery rise
The number of women choosing to have their breasts removed to reduce their risk of cancer has doubled in the last eight years. Mail Online covered the new NHS figures, which reveal that 480 hospital appointments for the procedure were made in 2017, compared to 234 in 2010.
Ex-smokers could be better off using high rather than low nicotine e-cigarettes
Vapers using low nicotine e-cigarettes could be using their devices more intensely than those using high nicotine equivalents, potentially increasing the risk of exposure to toxins in the vapour. The Sun covered the research, which found that vapers using low nicotine e-cigarettes puffed more deeply and increased the power of their vaping devices when possible. But evidence to date shows that e-cigarettes are far safer than tobacco, and can help people stop smoking. Our press release has the details.
Breast cancer survival in older women lower in England than four other countries
Women aged 70 and over who are diagnosed with breast cancer in England are less likely to survive their disease than those in Belgium, Poland, Ireland and the Netherlands, reports The Times (£) and Telegraph (£). The lower survival was linked in part to lower rates of surgery in this group of women, as the British Journal of Cancer press release explains.
Scottish Government reveals new healthy eating plan for schools
iNews and The Times (£) covered the announcement of new healthy eating plans for Scottish schools, which include banning fruit juices, smoothies and salt shakers from canteens. Our head of external affairs in Scotland, Gregor McNie, said that while the proposed initiative was welcome, much more needs to be done to help everyone make healthier food choices.
And finally
Around 40,000 cancer experts met to discuss the latest updates in cancer research this week at the American Society for Clinical Oncology (ASCO) Annual Meeting. We covered the top stories in our special ASCO blog post. And here are some of the highlights:
Katie
Comments