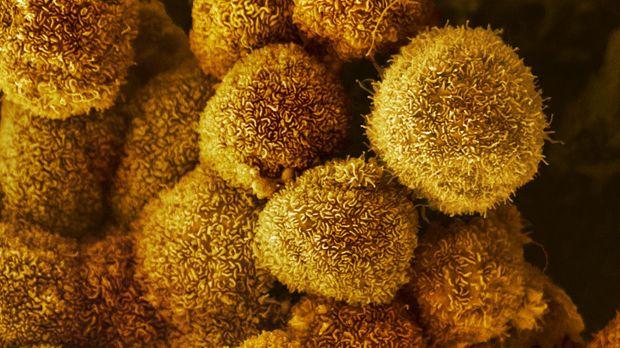 Pancreatic cancer cells - image courtesy of the London Research Institute EM Unit Pancreatic cancer cells
Breast cancer treatment can double risk of heart disease
Breast cancer survivors whose treatment involved chemotherapy or radiotherapy could be at higher risk of heart disease, reports the Telegraph. The Dutch study involved almost 15,000 women who were treated between 1970 and 2009. Experts said that since then radiotherapy techniques have changed, and most women are now given a drug to reduce the risk of heart damage.
Government considering e-cig tax, say Whitehall sources
The Government is considering a tax on e-cigarettes in the next Budget, according to The Sun and Mail Online. The news came from sources in Whitehall, who say that the tax would help fund the extra £20 billion promised to the NHS. No official announcement has been made.
NHS England survey results reveal cancer patients' experiences
One in 3 people with cancer visited their GP at least twice before being referred to hospital for tests, according to a new survey by NHS England. But patients rated their overall care as 8.8 out of 10 on average – the highest score achieved since the report was launched in 2010. The Mail Online has the details.
Lung cancer deaths in women expected to rise
Deaths in women with lung cancer are predicted to rise by 43% globally by 2030, reports the Independent. The research included data from 52 countries, and projected that Europe and Oceania would have the highest percentage of deaths in women with lung cancer, reflecting prior smoking trends.
Brexit will harm NHS and public health, say doctors
Eight in 10 UK doctors think that leaving the EU will hurt the NHS, according to new poll results. The Independent covered the survey, which asked 1,200 UK doctors for their opinion on Brexit.
New 'super-resolution' MRI could help plan radiotherapy treatment for lung cancer
Physicists have created 'super-resolution' videos of lungs expanding and contracting using MRI, reports the Institute of Cancer Research, London. Scientists combined images taken on a standard MRI machine to build accurate, high resolution movies of people breathing in and out. They think the technique could be used to deliver more precise radiotherapy for lung cancer in the future.
And finally
Cannabis extract hit the headlines this week. A study found that combining a compound found in cannabis (cannabidiol, CBD) with chemo extended the lives of mice with pancreatic cancer. The media were quick to talk about the potential benefits of cannabis extract to treat patients, but it's too early to say if it will work in people. Read our blog post for up to date evidence on cannabis and cancer.
Katie
Comments