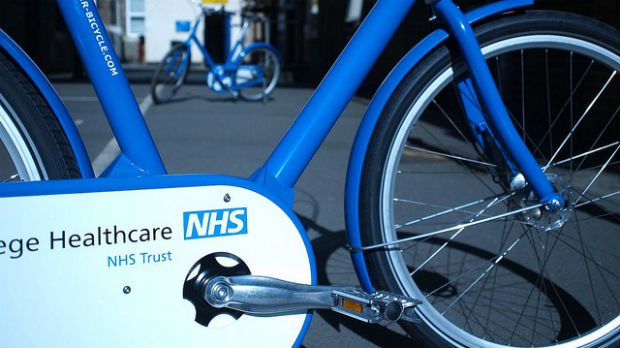 NHS hospital bicycle Credit: Flickr/CC BY-NC-SA 2.0
When the Prime Minister announced £20.5bn of extra funding for the NHS in the summer, she asked the health service to produce a long-term plan for how the money would be spent in England.
Today that plan has been published. It includes important commitments on cancer, such as diagnosing more cancers at an early stage, more support for smokers to quit and offering genetic testing to all children with cancer. And it includes a plan to help the NHS to innovate and do more research. But, crucially, the plan lacks sufficient detail about addressing staff shortages, which is vital for the NHS to tackle growing demand over the next 10 years.
So how do those key commitments stack up for people affected by cancer, and what might affect their chance of success?
Diagnosing cancers earlier
The headline pledge in the plan is to diagnose 3 in 4 cancers at an early stage by 2028, which reiterates an announcement made by the Prime Minister in October. This is an important and ambitious commitment, and is key to improving survival.
People are more likely to survive their cancer for longer when diagnosed early. But at the moment, only around 1 in 2 people with cancer in the UK are diagnosed at an early stage, so a big improvement is going to be needed if the NHS is to match the Prime Minister's ambitions. This will require lots of changes in the health service, and the new 10-year plan includes some positive first steps, including:
These changes will help, but hitting Theresa May's commitment will take more. The plan mentions improving public awareness of the signs and symptoms of cancer and helping GPs to refer patients for diagnostic tests more easily. But the plan doesn't detail how this will be achieved, or how the health service can be confident that these tests can be carried out swiftly.
Preventing more cancers
Around 4 in 10 cancers could be prevented largely through lifestyle changes. The biggest of these is smoking, which accounts for 1 in 4 UK cancer deaths and can cause at least 15 types of cancer.
Most smokers want to quit, and we think there is a huge opportunity for the NHS to help. The long-term plan provides good news on this, stating that all patients admitted to hospitals in England who smoke will be given treatment to quit – unless they opt out.
This will save the NHS money in the long-run, as well as improving people's health. But the plan relies on local Stop Smoking Services being in place once people leave hospital. And because of year-on-year local public health cuts, these services aren't in place for 4 in 10 local authorities. So, if the Government is serious about preventing cancer, it needs to ensure that local authorities, as well as the NHS, have the money they need to pay for Stop Smoking Services and support people to live healthier lives.
Doing more research
Patients now and in the future will benefit if the NHS can carry out more research into the diagnosis and treatment of cancer. Today's plan sets out some important changes to make it easier to carry out more research in the NHS, such as:
making it easier for patients to register to participate in research so that one million people have registered their interest by 2023/24;
creating simpler standardised clinical trial processes and prices; and
speeding up the time it takes for new innovations to get to NHS patients.
Again, details on how this will progress are limited. But we look forward to finding out more and working with the NHS to make them a reality.
What about Scotland, Wales and Northern Ireland?
The 10-year plan is only for the health service in England, but the devolved governments in Scotland, Wales and Northern Ireland will receive a proportional increase in funding as well – which will be confirmed by the UK Government later this year.
The Scottish and Welsh governments, as well as a future Northern Ireland Executive, can then decide how this money will be spent.
What next: a plan for more NHS staff?
Local areas will now be responsible for producing five-year plans to achieve the ambitions of the national plan. And beyond the health service, the upcoming Government spending review will determine how much will be invested in the vital infrastructure the NHS needs, as well as how much money there will be for education and training of staff.
But while there are some good ambitions, there still isn't a detailed plan for the NHS workforce – including cancer specialists. The NHS is about people, and NHS cancer services are already struggling under pressure because they don't have the staff they need. This problem is only going to get worse as more and more people develop cancer in the future.
There just aren't enough staff in key posts to diagnose and treat cancer – and this is something we've been highlighting, with your help, to politicians and decision makers. The Government has previously committed to tackling cancer workforce shortages, and work began in January 2018 on a long-term approach. But so far, nothing has been published.
The long-term plan rightly recognises the problem of staff shortages and includes some actions to begin addressing them. But it doesn't include detail on how this will be achieved in the next 10 years, and the new NHS funding doesn't include vital investment for medical education and training.
NHS organisations have committed to forming a national workforce group to develop a detailed plan later this year. Without a fix for staffing issues that includes the cancer workforce, the big ambitions for cancer in the NHS 10-year plan will struggle to become a reality.
Matt Case is a policy manager at Cancer Research UK
Comments