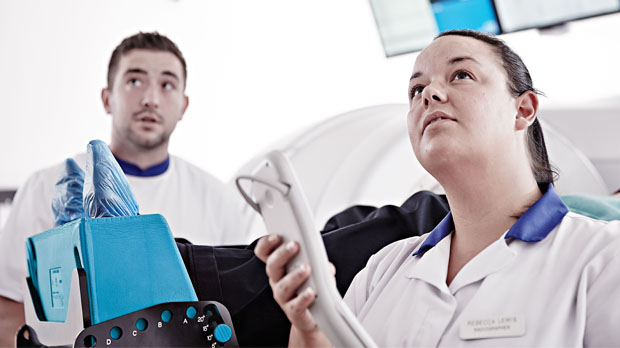 Therapy radiographers preparing the patient for treatment.
£56m to revolutionise radiotherapy research in the UK
A new network of experts has been charged with developing the next generation of radiotherapy treatments. Our £56 million investment, which was widely reported, looks to transform the UK into a global research hub, pioneering the use of innovative new techniques in radiotherapy and artificial intelligence (AI) to improve therapy. Read more about how we intend to revolutionise radiotherapy in our blog post.
'DIY' home tests could provide new options for cervical screening
A new 'DIY' urine or swab test that can be done at home could provide an alternative to current cervical screening tests, reports the BBC. It's an exciting prospect, as tests like these can help to improve early detection and break down barriers to attending cervical screening. But while the tests could pick up DNA changes caused by HPV infection, the major cause of pre-cancerous cervical cell changes, they're not ready to be rolled out just yet. So far, only people with advanced cervical cell changes that were picked up through existing screening tests have been studied. Researchers will now need to test how effective the kits are for more people, including those who've had normal screening results before.
Gut bacteria may be linked to increased bowel cancer risk
The Guardian reported a study showing a certain type of gut bacteria could increase the risk of bowel cancer by up to 15% in some people. The study, yet to be published, looked at the genetic and microbiome data of 120,000 people to see whether people with certain genetic traits had a greater risk of developing the disease. But experts have been quick to urge caution when interpreting the results, saying it's difficult to judge how strong the findings are without more information. The role that the bugs in our gut play in cancer is getting more and more attention, read our blog post for a closer look at the microbiome.
Added benefits of exercise for breast cancer patients revealed
New research suggests that people with breast cancer who exercise for the recommended 150 minutes each week could help reduce their risk of dying. The study, picked up by Mail Online, was run by scientists at the German Cancer Research Centre and involved over 2,000 women. But while there's evidence emerging that exercise can help improve survival, more research needs to be done to understand which types of exercises are most helpful, and when they might make a difference. Experts recommended that anyone considering taking up exercise alongside their treatment should speak to their doctor first.
High-risk men should get prostate cancer checks, says researchers
Scientists in London say an annual blood test should be recommended to men born at high risk of developing prostate cancer. But while understanding more about people at higher risk of prostate cancer is important, previous studies have shown that PSA is not a suitable test for screening prostate cancer in the general population. And there's still a lot more work to do before we can say that giving PSA tests to high-risk men could save lives from this disease. Read the story at BBC News.
Excitement over blood test that detects breast cancer 'years before symptoms develop'
'Simple' blood tests were back in the news this week after early results from a study by researchers in Nottingham, presented at a conference, suggest that breast cancer can be detected in the blood up to 5 years before clinical signs. But while the potential of detecting cancers markers in the blood is hugely promising, the test detected less than 4 in 10 cancers in patients who had already been diagnosed.
Only children are more likely to be obese than those with siblings
A US study has found that only children are significantly more likely to be overweight by the time they turn 7. Research suggests 37% of only children are obese, compared with just 5% of children with siblings. Whilst the reasons behind these findings are unclear, scientists reported unhealthier eating habits and the higher weight of mothers in only children as potential reasons. But as the study only monitored 68 children over a one-week period, there's a lot more to learn before scientists can say if this is a true link and what could reduce children's risk of developing obesity as a result. Find the full write-up in the Mail Online.
Vitamin D makes melanoma cells less aggressive in the lab
Scientists have uncovered more about how vitamin D influences the behaviour of melanoma cells in the lab and in mice. While it's early days yet, scientists hope to use this information to investigate if vitamin D could one-day help to boost the effectiveness of other treatments. Our press release gives more insight on the study.
New AI blood test could speed up diagnosis of brain tumours
iNews reports on a new test, which combines blood tests with an artificial intelligence (AI) programme, that could speed up the diagnosis of brain tumours and help patients receive treatment earlier. Researchers trialled the new test on blood samples from 400 people with possible signs of brain tumour, 40 of whom were subsequently found to have the disease. The test correctly identified 82% of the brain tumours. The next step is to try the test in 600 people who are suspected of having a brain tumour.
First steps taken in editing genes to fight cancer
Doctors in the US have begun testing a new gene-editing technique for people with cancer. The editing was done by a DNA snipping tool called CRISPR, editing genes to help patients' immune systems attack cancer cells. So far, the treatment has been trialled in 3 patients, with the main aim to asses if the treatment is safe to use in people. The New York Times has more.
And finally…
Campaigns have kicked off for the UK General Election on the 12thDecember. Use our General Election fact checker to help you see all party claims about cancer in the run up to elections.
Scarlett Sangster is a writer for PA Media Group
Comments