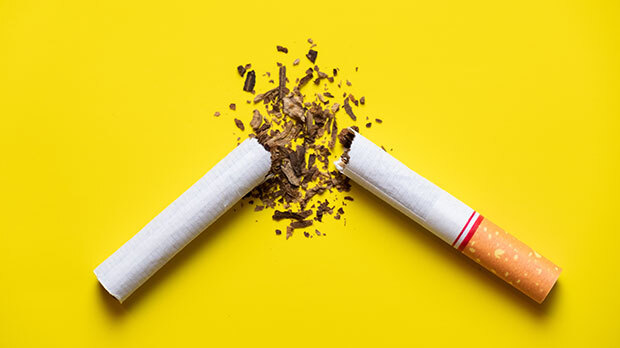 It's known that people from more deprived backgrounds are more likely to get cancer. New analysis from Cancer Research UK has revealed that ending smoking in England would have the biggest impact on closing the 'cancer inequality gap' between the most affluent individuals and the rest of the country.
Published today in PLOS ONE, the latest findings suggest that there could have been 61% fewer cases of cancer linked to deprivation in England if nobody smoked. To put that into perspective, it is the equivalent of around 27,200 deprivation-linked cases per year, down to around 16,500 each year.
Previous research has found that smoking is the single biggest driver of difference in life expectancy between the richest and poorest in England because rates of smoking are higher amongst people from deprived communities and are falling more slowly.
Cancer Research UK is calling on the Government for timely action to prevent thousands of cancers, save lives and help close the cancer inequality gap.
Smoking is the biggest cause of cancer, but today's findings drive home that this burden is not felt equally by all. We've been sounding the alarm on this for years, now urgent Government action is required.

Michelle Mitchell, Chief Executive of Cancer Research UK
Smoking and the cancer inequality gap
The burden of smoking is not felt equally by all.
There are lots of reasons people smoke. It's not as simple as avoiding cigarettes because they're unhealthy and costly. Some people are more likely to try a cigarette than others, and often factors outside of our control can make all the difference. For many, that first puff paves the way to long-lasting addiction.
People in routine and manual occupations in England are around 2.5 times more likely to smoke than those in managerial and professional occupations, and those from more deprived groups also find it more difficult to stop smoking.
"We know that people from more deprived backgrounds are more likely to smoke, and also tend to start smoking at a younger age which means it is often harder for them to stop smoking," said Jamie Hartmann-Boyce, Associate Professor in evidence-based medicine at the University of Oxford.
"Years of exposure to cigarettes and the targeting of specific groups by the tobacco industry has got us here. And it's not as simple as just telling people to stop smoking – people need support and the right tools to help them quit. This requires investment, particularly in more deprived areas, to tackle the unacceptable health inequalities highlighted by this research."
When used as intended, cigarettes are the only consumer product that will kill most users – 2 out of 3 people who smoke will die from it. But cigarettes have been engineered over time to be as addictive as possible, so whilst most people who smoke want to stop, they need support to do so.
Cancer Research UK has also echoed concerns that amidst the current cost of living crisis, smoking continues to pull those who can least afford it further into financial hardship. All the while, the tobacco industry profits from the nation's ill-health.
The numbers are staggering. In England alone, smoking drains the economy by £17 billion a year, overshadowing the £10 billion income from taxes on tobacco products for the UK as a whole. Funding tobacco control will, therefore, level up the health and the wealth of the nation.
Calling for a smokefree UK
Governments in England, Scotland and Wales have set out targets to reduce the number of people who smoke, known as 'smokefree' targets (defined as less than 5% of the adult population smoking).
Cancer Research UK has estimated that the Government is 7 years behind its commitment for England to become smokefree by 2030. And this figure is almost double that for the most deprived communities.
Despite the warnings, numerous opportunities to take bold action to end smoking have been missed and budgets for stop smoking services have been repeatedly cut, with access varying greatly across the country.
"Millions of lives are in this Government's hands," said Michelle Mitchell, Chief Executive of Cancer Research UK. "It must implement a Smokefree Fund, making tobacco companies foot the bill – without any influence on how the money is spent – to help people who currently smoke stop and stop young people from ever starting.
"It's time the tobacco industry, not the taxpayer, pays for the harm it causes to our nation's health, and our health service. Bold action on tobacco control will have a significant impact on relieving an NHS buckling under immense pressure."
It's time to take action
Cancer Research UK believes that Javed Khan's Independent Review of Tobacco control for England provides the Government with a roadmap to close the cancer inequality gap and prevent the next generation from suffering a lifetime of addiction.
The charity launched its Smokefree UK campaign earlier this summer, with over 60 Cancer Research UK ambassadors heading to Westminster. The charity and its campaign ambassadors are calling for more action to prevent young people from smoking, including a consultation on raising the age of sale of tobacco, and increased funding for the measures and services needed to help people quit.
Anyone can support Cancer Research UK's Smokefree campaign by getting in touch with their MP today and asking them to take action to tackle smoking, prevent cancer and help to build pressure on the Government in Westminster to act.
Lilly
Comments