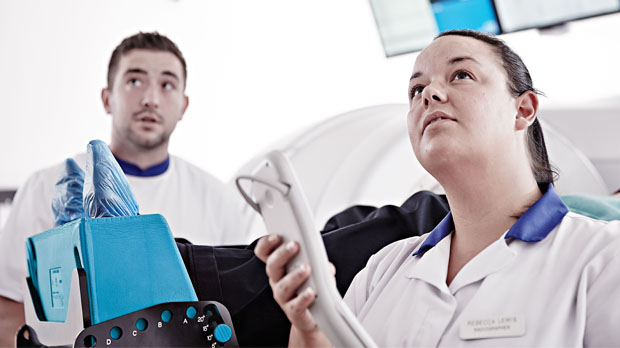 Therapy radiographers preparing the patient for treatment.
Kim Meeking has been treating people with cancer for 15 years. She's a therapeutic radiographer, working at University Hospital Southampton, and here she shares what her job involves, and why she loves it.
What is a therapeutic radiographer?
There are two types of radiographers working in hospitals: therapeutic and diagnostic.
Chances are, if you've been to hospital you will have been referred to the radiology department at some point and will have come into contact with a diagnostic radiographer. These are the specialists that help diagnose what's wrong with us using different types of imaging, such as x-rays, CT and MRI scans.
About 4 in 10 people diagnosed with cancer will receive radiotherapy as part of their treatment. And as therapeutic radiographers, we plan and deliver radiotherapy treatment.
The word therapeutic can be defined as "relating to the healing of disease" but also "causing someone to feel happier and more relaxed, or to be more healthy". This blend of definitions – the healing of disease and looking after the wellbeing of a person – really sums up what we do.
What do we do?
We plan radiotherapy treatment using a customised CT scanner and administer radiotherapy using specialised machines called linear accelerators (or 'linacs' for short).
On a typical day we will see and treat around 30 patients and most radiotherapy departments have a number of machines, so a couple of hundred patients can be seen in a normal day.
Each patient has a set number of treatments that they have to attend, and this is anything from one treatment to 6 weeks of treatment every day (usually with weekends off).
As well as planning and delivering the treatment, we provide expert advice to our patients to help them manage symptoms and side effects of treatment.
Ask any radiographer to name something they love about their job and they will tell you that it's the relationship they develop with their patients over the course of their treatment. It's without doubt the best thing about our job.
In the words of a patient
To help explain, here's an excerpt from a thank you letter one of our patients sent to us:
"You are a wonderful team of people who carry out your daily professional duties with such care and attention. It appears that nothing is too much trouble, you all go the extra mile to make sure everything is correct, down to the last millimetre, no matter how long it takes…you have an amazing capacity for compassion, patience and understanding while instilling confidence through your calmness and attention to detail. It has been a privilege for me to be treated by such a fantastic team – thank you so much for all you did for me over the last 5 weeks – you made it bearable."
This patient, like so many others I have had the pleasure to help through their treatment, was truly grateful. We see people in perhaps one of the most vulnerable stages of life. And we're in the privileged position of being able to comfort and care for them when they might feel lost, scared and in pain. They can be dealing with complicated emotions as well as physical symptoms.
We see all types of people, all with different stories and different ways of dealing with what is in front of them. We are part of making this chapter of their life a little easier. And that is the gift we get every day and it's why I love my job.
Where precision meets compassion
As well as being compassionate people, we're required to be highly technically skilled too.
Every day we deliver precise and life-saving doses of radiation. Precision is absolutely key, and attention to detail runs through us.
The technical side of our job is always advancing; I have seen so many changes over the last 15 years. If I told my 22-year-old-newly-qualified-self that we would be able to treat patients with radiotherapy that was accurate to 1 millimetre and able to be adapted perfectly to a person's internal anatomy on a daily basis, I wouldn't believe it was possible. But it is! And it continues to get better and better as the machinery and software develop.
Today's research is tomorrow's care
The person who wrote the lovely letter had her radiotherapy treatment as part of one of our clinical trials looking at how to improve a radiotherapy technique and minimise side effects.
My role involves running radiotherapy clinical trials in our department so I get to keep right up to date with the latest advances. Radiotherapy continues to be one of the most important treatments for cancer. And it's so encouraging to see radiotherapy research in action and be part of making treatments even better.
Radiography is a very rewarding career with many opportunities to specialise and many more opportunities to make a positive difference to the lives of people with cancer.
I love the work I do and I am very proud to call myself a radiographer.
Kim
Comments