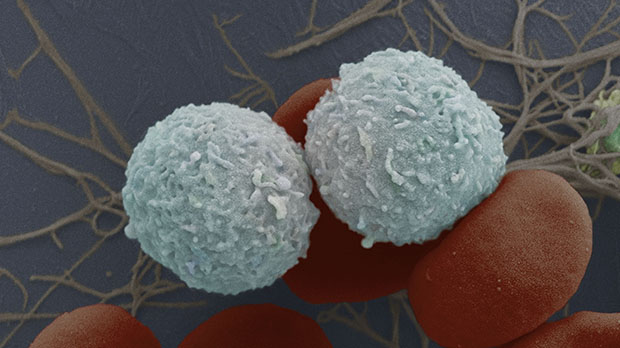 Immune cells (white). Image courtesy of LRI EM Unit. Immune cells found in the blood.
UK cancer cases caused by obesity could almost double in two decades
Cancer news was still emerging from Chicago earlier this week as the second half of the largest cancer conference in the world, the American Society of Clinical Oncology (ASCO) Annual Meeting, continued. Obesity was the subject of one of the major stories in the UK after new calculations by NHS England suggested that number of cases of cancer caused by obesity will almost double in the next 20 years. The Telegraph reported the figures, which forecast around 40,800 diagnoses linked to excess weight a year by 2035.
Precision drug combo boosts survival in younger women with advanced breast cancer
US research suggests combining a targeted drug with hormone therapy can extend the lives of younger women with advanced breast cancer, reports The Sun. The researchers say they now plan to follow the people who took part for longer and take blood samples to hunt for signs that may point to those most likely to benefit from the treatment. We also covered the promising clinical trial results presented at the ASCO Annual Meeting.
Targeted drug slows pancreatic cancer progression in trials
Survival for pancreatic cancer is devastatingly low, but results from a new trial, also presented in Chicago, suggest a precision drug could slow the progression of the disease in a small number of patients after chemo. Read our news report for the details.
Taking Vitamin D could reduce the risk of dying from cancer
More from the conference: a few studies point to the potential beneficial effects of taking vitamin D if you have cancer. Reported in The Sun, researchers say they now need to do more work to determine who might benefit from taking supplements and the recommended dose. As we told the Mirror, it's important that cancer patients consult their doctor before taking vitamin supplements.
Immunotherapy treatment put to the test against lung and stomach cancer
The ASCO Annual Meeting also put the spotlight on a type of immunotherapy treatment that has boosted lung cancer survival. The Mail Online reported these results and we also covered unpublished data that paints a mixed picture for the same drug against some advanced stomach cancers.
Immune-boosting drug combo extends lives of advanced head and neck cancer patients
A UK study using the same immunotherapy drug as above alongside chemo, has also shown some benefit for people with head and neck cancer that has either spread or come back. Taking the immune-boosting treatment with less aggressive chemotherapy extended survival and reported side effects were less severe compared to the standard of care. The Guardian looks at the study in more detail.
Targeted radiotherapy for prostate cancer tested in trials
The Telegraph reports a recent Australian study of 50 men with advanced prostate cancer, also shared in Chicago, that tested a treatment aiming to 'search and destroy' prostate cancer cells. The treatment targets a molecule on the surface of prostate cancer cells and then delivers a radiation hit, with early results from small studies suggesting it might work for some.
A growing list of potential treatments for advanced prostate cancer
A new drug was added to the list of possible up-front treatment options for people diagnosed with prostate cancer that has spread, says the Independent. The study's findings, again presented at ASCO, show that adding a hormone treatment to standard therapy extended men's lives. This brings the number of potential treatment options to 3 based on recent trials, as we discussed in our conference round up.
Targeted drug shows promise in prostate cancer
A targeted drug that's already used to treat ovarian cancer is showing early signs it might benefit some men whose advanced prostate cancers carry certain faulty genes. In a clinical trial, the drug – called olaparib (Lynparza) – triggered a response from just under half of cancers that carried faults in genes linked to DNA repair. The best responses were seen in men whose advanced prostate cancers had faulty BRCA genes. Read the Telegraph for more.
And finally
"Dodgy documentaries" promoting dangerous unproven cancer "cures" can be streamed on Amazon Prime, reports Wired. Searching for 'cancer' brought up a film about a woman who says her cancer was cured in 30 days after eating plants and taking a harmful alternative treatment that breaks down into cyanide in the gut. The fact that the platform's recommendation algorithms are pushing viewers towards dangerous medical misinformation that can harm health and portray it as fact is cause for concern. And as our head information nurse, Martin Ledwick, says: "If something sounds too good to be true, it probably is. Anyone considering taking alternative medicine should talk it over with their doctor and be wary of people who might be trying to take advantage of them". Read more about research into how alternative medicine might affect cancer survival in this blog post.
Gabi
Comments