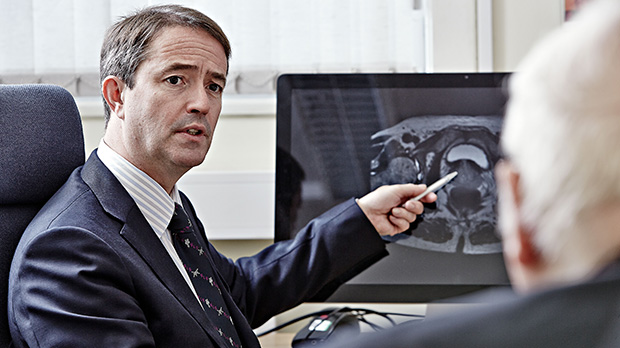 Our work to encourage earlier diagnosis of cancer is crucial. Prostate cancer diagnosis
Exciting new breed of cancer drugs approved in Europe
The BBC covers the approval of a new breed of cancer drug by the European Medicines Agency (EMA), called 'tumour agnostic' drugs. They're different from most cancer drugs because instead of being developed based on where the cancer is growing in the body, the drugs target specific changes in cancer cells' DNA. This means people with different types of cancer may benefit from them. But while the latest tumour agnostic drug may provide a valuable option for patients with some rare cancers, it's a way off being available on the NHS, as we've blogged about before.
PM pledges £200 million for new NHS equipment to detect cancer
The UK Prime Minister, Boris Johnson, has announced a £200 million funding boost to help diagnose people with cancer earlier. The money will be spent on new diagnostic machines that can be used to test for cancer, including MRI and CT scanners. Read The Telegraph for more.
'My body feels like it is dying from the drugs that are meant to save me'
Take a look at this Guardian long-read for a poignant and honest account of one woman's experience of going through gruelling chemotherapy treatment.
Study links certain male fertility treatment with possible increased prostate cancer risk
A new Swedish study suggests that men who have had a certain type of fertility treatment could have a higher risk of developing prostate cancer compared to those who have conceived naturally. According to the BBC, the researchers looked at 1.2 million pregnancies in Sweden over 20 years, but more research is needed to see if the link is there in larger groups and the underlying reasons at play.
Some men treated with surgery for prostate cancer may not need radiotherapy
Our prostate cancer trial results, presented at the European Society for Medical Oncology (ESMO) conference, show that men with early prostate cancer who've had surgery do just as well without radiotherapy as those having the additional treatment. As The Telegraph explains, this could save men from life-changing side effects.
Language change around obesity suggested to prevent weight stigma
The British Psychological Society released a new report advising on the best language to use when talking about obesity. The Telegraph covered the recommendations, which aim to reframe obesity as a complex condition which has many causes.
Alcohol pricing policy cuts drinking rates in Scotland
Minimum pricing of alcohol in Scotland is having its desired effect, reports the Mail Online. The policy, introduced in May 2018, sets the minimum pricing of alcohol to 50p per unit. And research suggests it's cut the nation's drinking rate. On average, people in Scotland are now drinking 1 unit of booze less a week than before the price hike, leading to suggestions that the legislation should be adopted across the UK.
Tasmanian devil tumours teach us about immunotherapy resistance
A cluster of interacting proteins that are active in some human cancers and Tasmanian devil facial tumours have given scientists new clues as to how cancers evade the immune system. BT.com covered the research, that we part-funded, and we also blogged about this one.
UK home to 3.6 million vapers
Figures from Action on Smoking and Health reveal there are now almost half as many vapers in the UK as those who smoke tobacco. The BBC covered the report, which also indicates that the majority of people using e-cigarettes are former smokers.
Pancreatic cancer urine test set to start trials
An experimental urine test that aims to detect pancreatic cancer earlier is set to enter clinical trials, reports the Mail Online. The study, which will cost £1.6 million, will help researchers assess how accurately the test can pick up the early signs of the hard-to-treat disease.
Cancer Research UK boost entrepreneurs in science
Pharma Times covers our first entrepreneurship initiative, which will provide support and education to early career researchers. The business accelerator programmes aim to help scientists turn their innovative ideas into viable companies that could benefit patients. Our press release has the details.
And finally
A nutritional study, reported by the Scotsman, looked at the consumption of a sauce packed with garlic and onions in a group of women in Puerto Rico. Researchers said the study suggests that eating at least two helpings of sofrito a day may reduce breast cancer risk and that these pungent vegetables were behind the link. But they only looked at a small and very specific group of people, so there's no need to stock up on onions and garlic.
Gabi
Comments