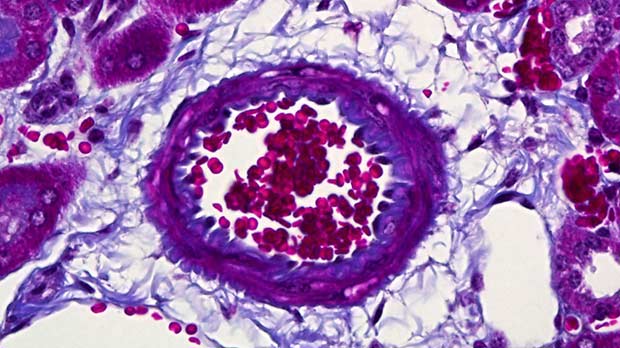 Credit: Will Howat
The National Institute for Health and Care Excellence (NICE) has made an initial decision not to recommend pembrolizumab (Keytruda) and axitinib (Inlyta) for advanced renal cell cancer.
This cancer affects around 8 in 10 of the approximately 12,900 people diagnosed with kidney cancer each year in the UK. And the immunotherapy and targeted drug combo would have provided a new option for patients with advanced disease who have not yet received treatment.
Rose Gray, policy manager at Cancer Research UK, says the initial decision "will be disappointing for patients affected by this type of cancer".
A combination treatment
Pembrolizumab is an immunotherapy treatment that works by blocking a protein called PD-1 on the surface of certain immune cells called T cells, triggering the body's immune system to kill cancer cells.
It would be used in combination with the targeted drug axitinib, which is already used to treat people with advanced kidney cancer whose cancer has continued to progress after initial treatment.
Initial treatment for this type of kidney cancer is currently one of the targeted therapies pazopanib, tivozanib or sunitinib – with pazopanib being the most common on the NHS in England. Cabozantinib is also an option for some patients whose disease is flagged as having a high risk of progression.
Trial results
In clinical trials, the pembrolizumab and axitinib combination improved survival compared to sunitinib. And patients suggested the treatment combo may have fewer side effects than existing drugs.
People taking pembrolizumab and axitinib lived without their cancer getting significantly bigger for 15.1 months on average, compared with 11.1 months for those taking sunitinib. NICE accepted the results of the trial suggested the the combination treatment would provide similar benefit compared with pazopanib and tivozanib too.
But it said comparisons of the combination's effectiveness against cabozantinib were difficult and didn't suggest a significant difference in delaying cancer growth or improving survival.
More long term data needed
NICE made the decision not to recommend the combination of pembrolizumab and axitinib because of uncertainties around the long-term benefits of the treatment.
This is partly because the clinical trial has not run for long enough to fully assess how long the positive effects of the treatment might last for. That meant NICE couldn't be confident the treatment would offer value for money in the NHS.
NICE said that extra data, like whether a significant number of patients complete the maximum 2 years of therapy or become cancer-free before then, and how long before these patients relapse, would help resolve these uncertainties.
But NICE said it was unlikely these questions could be answered quickly or comprehensively enough to justify making the drug available for through the Cancer Drugs Fund while this long-term data was collected. And at the drug's current price it was implausible it would be cost effective, even with this additional information.
The decision will be reviewed once the drug's manufacturer has had the chance to provide additional data on the drug's benefits or offer a new price.
"We urge NICE, NHS England and the treatment's manufacturer to continue to work together to agree a deal which will allow the treatment to be approved when this decision is reviewed later this year," said Gray.
NICE decisions are usually adopted in Wales and Northern Ireland as well as England, so the decision is likely to affect patients in all 3 nations. Scotland has a separate process for reviewing drugs.
References
NICE (2020) Pembrolizumab with axitinib for untreated advanced renal cell carcinoma [ID1426]