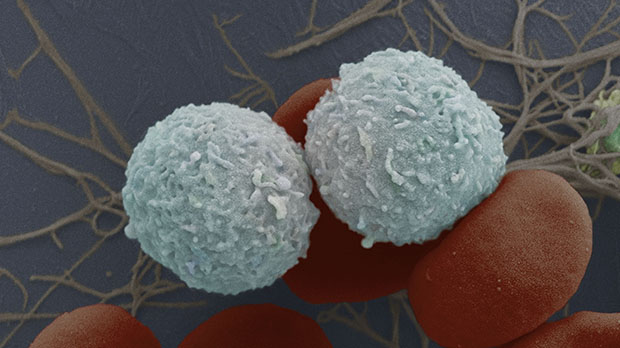 Immune cells (white). Image courtesy of LRI EM Unit. Immune cells found in the blood.
London Mayor bans junk food ads on public transport
To help tackle rising levels of obesity in the capital, the Major of London, Sadiq Kahn, has announced a ban on junk food marketing across public transport. According to the BBC, ads for food and drink high in fat, sugar and salt will vanish from the Underground, Overground, buses and bus shelters by February next year. Our news report has the details.
Engineered virus kills cancer cells and cells that help cancer grow
Our scientists in Oxford have engineered a virus that not only attacks cancer cells, but also helps destroy normal cells that help tumour cells grow in the lab. The Independent covered this research and the video below catches the virus in action.
Our scientists' modified virus produces a protein that encourages immune cells to kill normal cells that help cancer cells grow in the lab. pic.twitter.com/Yp3K7sW3ee

— Cancer Research UK (@CR_UK) November 19, 2018
Immunotherapy and chemo combo made available for some NHS lung cancer patients
The Mail Online covers new draft guidance from the National Institute for Health and Care Excellence (NICE) that means some patients with a type of lung cancer will be able to take the immunotherapy drug pembrolizumab (Keytruda) with standard chemo. A clinical trial showed the combination boosted survival. Read our news report for the full story.
Immunotherapy drug to be made available for some NHS patients with advanced skin cancer
Another win for patients who might benefit from pembrolizumab: the drug will also soon be an option for people with melanoma that has spread to the lymph nodes and who have already had surgery. The approval comes following trial data showing it could stop the cancer from coming back. We covered this one too.
Sugary drinks tax raised almost £154 million so far
Since its introduction in April this year, the Soft Drinks Industry Levy (commonly known as the sugar tax) has raised £153.8 million, reports the BBC. The Government says the tax is on track to raise its projected £240 million by the end of the financial year.
NHS to save money on branded drugs
According to the Health Secretary, Matt Hancock, the NHS will save almost £1 billion on medicines next year after a new deal was reached with the pharmaceutical industry. The agreement included a cap on how much the NHS pays drug firms for branded treatments. The Sun covered this announcement.
And finally
Headlines on research in mice suggested that a sugar supplement called mannose could soon treat cancer in people. Even though tumours in the mice shrank after eating mannose and receiving chemotherapy, our scientists who led the research said they hadn't yet fully investigated how this impacted the health of the mice. So, there's quite a lot of work to do before we'll know if it's safe to test the same approach in people. Mannose can be bought over the counter to treat short-term health conditions like urinary tract infections, so our blog post explains why patients shouldn't be rushing to health food shops just yet.
Gabi